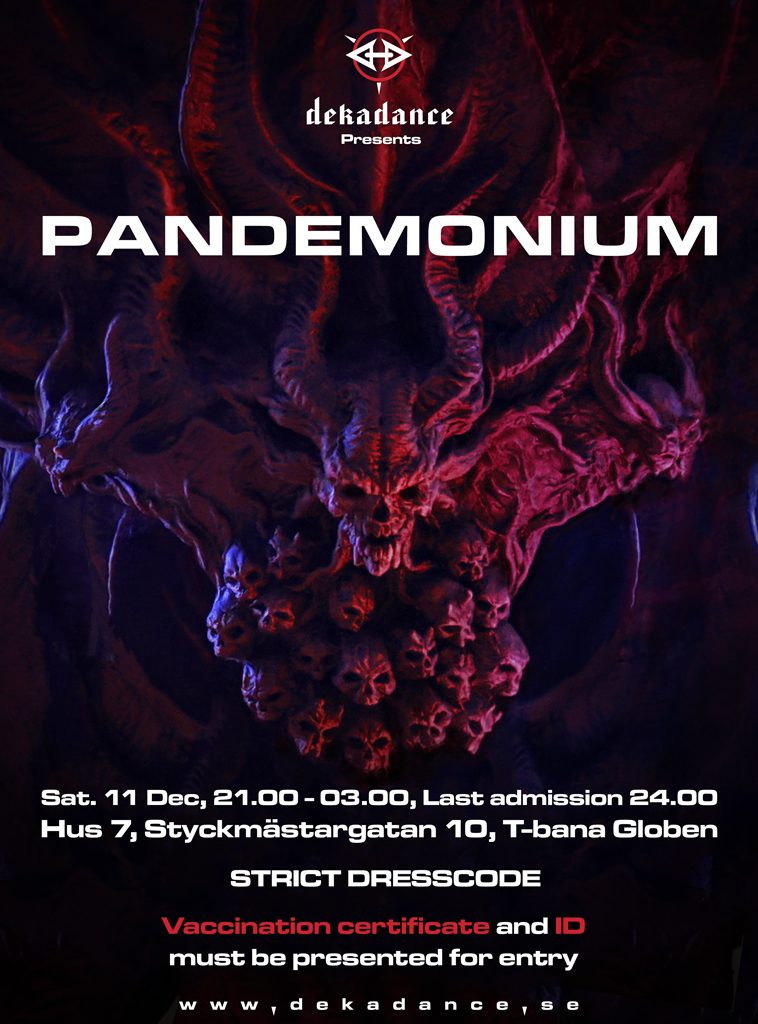 Dekadance Pandemonium
To long have we stayed at home, to long have we contained our urges and our needs. Join us in a wild uproar and through chaos we shall once more be among the decadent darkness among our allies and friends.
Join us in the Dekadance Pandemonium!
Date: 11 december 2021
Opening hours: 21:00-03:00
Entrance close at 24:00
Location: HUS 7
Tickets:
Tickets can only be bought via our website. (SOLD OUT)
No tickets for sale at the door
Support 500 SEK if you wish to support us with a little extra
Full price 300 SEK
Discounted 250 SEK if you have a limited economy like due to unemployment, illness or studies.
www.dekadance.se/biljett.php
Registered ticket, ID and Vaccination certificate/Vaccinationsbevis required at the door
covidbevis.se/vaccinationsbevis-web/
If you have a Golden Ticket or postponed ticket from Equinoxxx and wish for a ticket for Pandemonium, send an email to info@dekadance.se. Include your Dekadance membership number.
There will be zones where mobile phones are allowed. No photos allowed.
There will be official photographers on site.
-------------------------------------
DRESSCODE
Let us Dress, Dance and Play!
To drown in the depths of amazing outfits together let Lady Gaga meet Hellraiser, Hieronymus Bosch meet Rue Paul and Brom meet Dali. Make a dress worthy of the court of Slaanesh, the wilderness realm of Pan and make sure to impress Sjöfn and an invitation from Cibaresh.
Go extra all, and then some. Make an effort to become a part of the inferno in an everlasting swirl of consensual madness, dance and play!
To know that your fantastic creation is welcome, here are the dress code rules:
Patent leather, pvc/pvc fabric, leather and latex - you always get into the event.
We also welcome other materials to this party. If they create an extra Pandemonic experience and are extra everything. A good test is that if you can go out on the town in your gear and the majority gapes and turns around after you, then you got it right.
To get our opinion and a prior approval, email photos of you in your creation to dresscode@dekadance.se
We reserve the right to refuse entry at the door if the dresscode is not met. No ticket refunds given.
For some inspiration check our Pinterest. 
www.pinterest.se/dekadance/pandemonium/
---------------------------
First time at Dekadance, then please read this. 
www.dekadance.se/?page_id=109
For an event of this scale we need your assistance. We will need riggers to build and disassemble the venue and crew to make sure the event runs smoothly. Rigging/disassemble is a great way to meet new and old friends and possibly grab a free ticket.