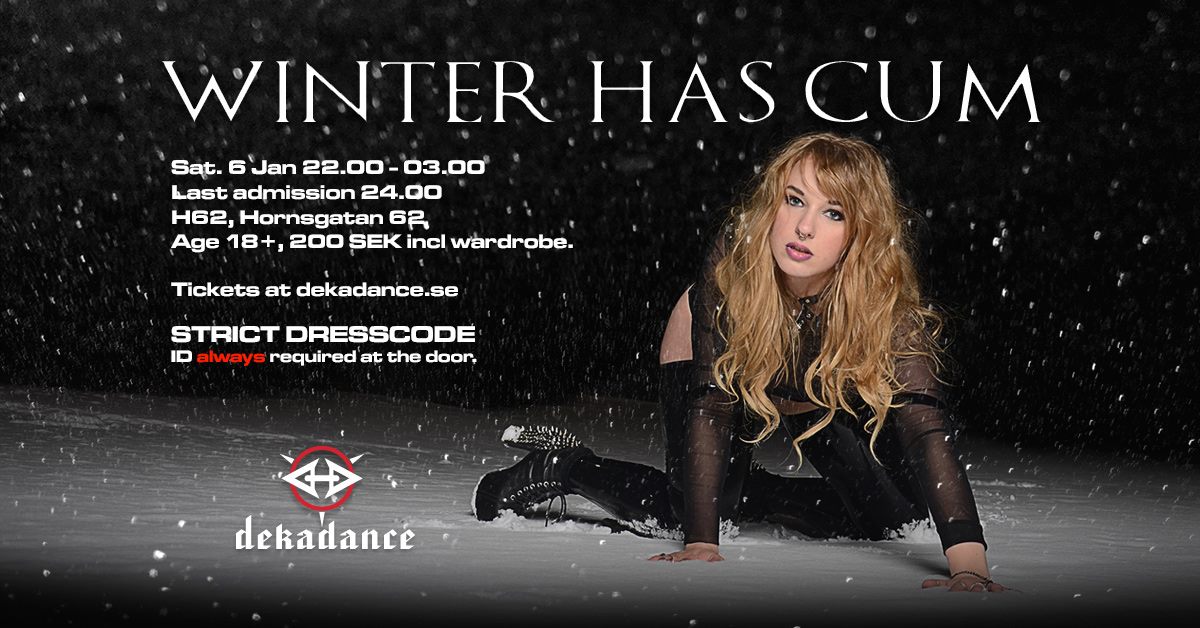 Datum: & january, 2018
Time: 22-03, insläppet stänger 00:00
Plats, H62, Hornsgatan 62, (T) Mariatorget
Pris: 200 kr
Biljetter: Köps enbart via 
www.dekadance.se
, visa ALLTID giltig legitimation i dörren!
Vi rivstartar 2018 med en fest redan på årets första lördag!
Vintern har kommit och vi trycker oss mot varandra på mysiga H62 för att mingla och dansa och shina oss varma.
Ordinarie dresscode gäller, se 
www.dekadance.se/?page_id=74
. Om du är osäker på om din klädsel är godkänd, skicka en bild till dresscode@dekadance.se.
Vi behöver alltid folk som hjälper till med roddning, inträde och crew-skap under festen. Maila vår profil här, eller info@dekadance.se, om du har möjlighet att hjälpa till.
P.S. Ta på er ordentligt med fetischkläder, så ni inte behöver frysa lika mycket som Drifter gjorde när vi tog bilden ...
++++++++++++++++++++++++++
Date: January 6th, 2018
Time: 10 PM – 3 AM, doors close at 0:00
Venue: H62, Hornsgatan 62, (T) Mariatorget
Cost: 200 SEK
Tickets: Only through 
www.dekadance.se
, always show ID at the door!
We will start 2018 with a party on the first Saturday of the year!
Winter has cum and we squeeze together at the cozy H62 to mingle, dance and shine ourselves warm.
Our usual dress code applies, in Swedish at se 
www.dekadance.se/?page_id=74
. We seem to have misplaced the English translation (we will fix that asap), but in short: Latex, Leather and PVC will get you in. If you're unsure if your outfit will pass, send a photo do dresscode@dekadance.se.
PS: Remember to wear plenty of fetish clothes, so you don't have to be as cold as our model Drifter was at the photoshoot ...