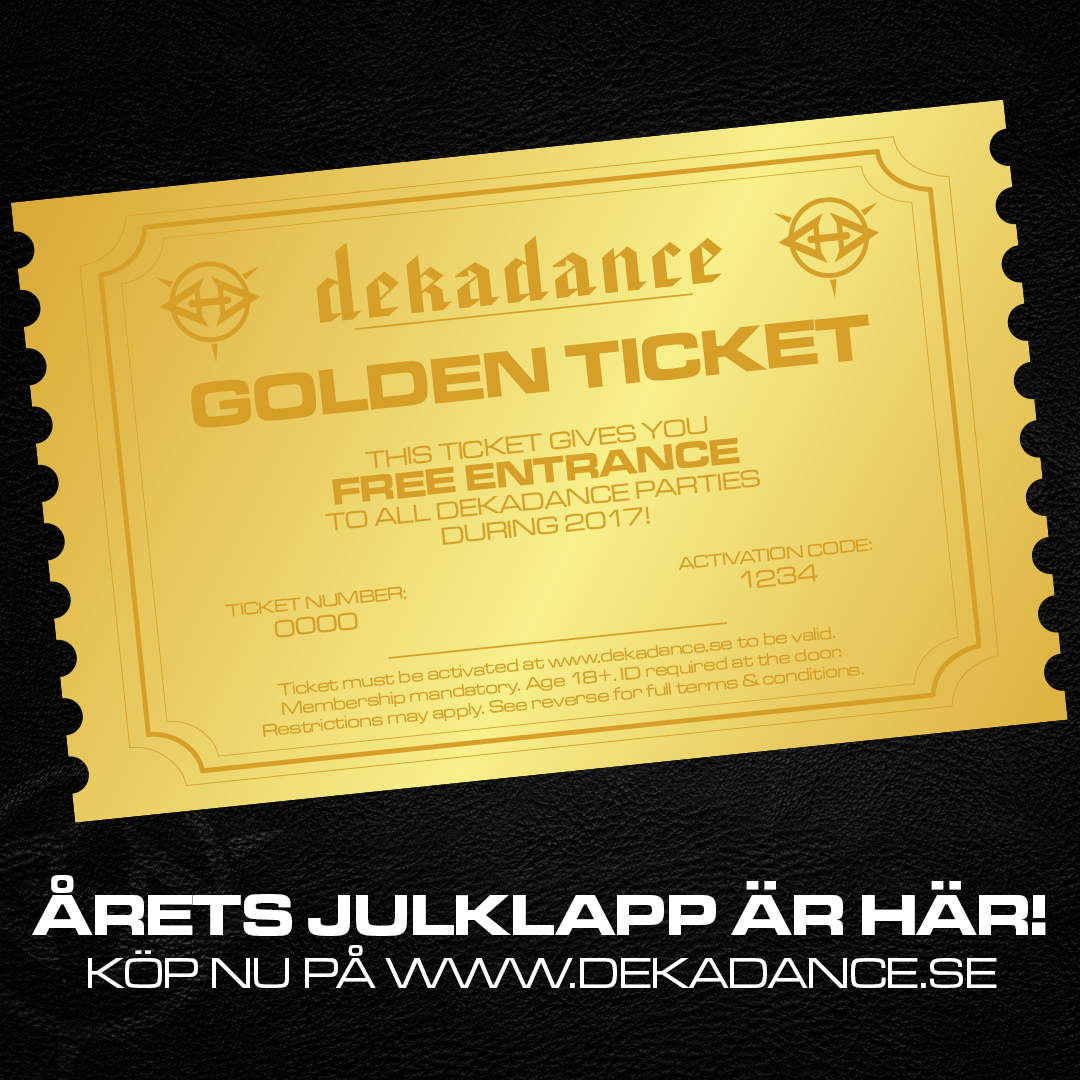 Inför 2017 har vi planerat att ha minst fyra stora fester, och ett par små. Vill du säkra en plats på alla fester vi anordnar under året så kan du köpa en gyllene biljett nu. Eller ännu bättre - ge en till någon du tycker om! Den perfekta julklappen!
Biljetten kostar 1000 kronor och gäller som inträde till alla fester och event Dekadance annordnar under hela 2017!
Du köper biljetten genom att skicka ett e-mail till
info@dekadance.se
 så skickar vi information om hur du betalar. När vi mottagit betalningen skickar vi dig en stor, fin guldbiljett att slå in och lägga under granen eller stoppa i latexstrumpan. Om du vill kan vi skicka dig en PDF-fil, om det till exempel är bråttom eller om du vill kunna skicka biljetten digitalt till någon.
TERMS & CONDITIONS
1. This ticket gives the owner free entrance to all Dekadance events during 2017.
2. This ticket must be activated at www.dekadance.se to be valid.
3. Membership is mandatory. It is free and obtained through www.dekadance.se.
4. In order to be eligible for free entrance the member must sign up to
the specific event by sending an e-mail containing the member's username
and membership number to info@dekadance.se at least
one hour before the event is scheduled to start.
5. This ticket does not give the member free entrance to events
arranged by partners of Dekadance.
6. This ticket is non-transferable, non-refundable, and non-changeable.
7. In case the member is banned from one or more events or their
membership is cancelled this ticket and its value will be considered forfeit.
8. This ticket does not grant the member any additional benefits not
available to all members.
9. This is not a toy. To avoid suffocation, keep away from children.